NOSE
Introduction to Rhinoplasty
At our award-winning practice in Las Vegas, rhinoplasty is Dr. Christopher Costa's #1 surgery and one he performs with exceptional confidence. An ideal nose is both functional and cosmetically pleasing. Las Vegas, NV plastic surgeon Dr. Chris Costa has a passion for rhinoplasty, and it is one of his favorite procedures. Having trained with some of the top rhinoplasty surgeons in the world, Dr. Costa has developed a keen aesthetic eye and attention to detail that produces amazing, natural results.
Our patients find that Dr. Costa provides some of the best rhinoplasty results in Las Vegas and that his bedside manner and expertise make him one of the best nose surgeons in the country. Below, we've included more information about rhinoplasty surgery, but if you have any questions, or would like to schedule a consultation, please contact us today.
Results speak for
themselves.
Before
After
Before
After
What is Rhinoplasty
Rhinoplasty is a cosmetic or functional plastic surgery procedure also referred to as a nose job or cosmetic nose surgery. Through cutting-edge rhinoplasty techniques, Platinum Plastic Surgery can address issues such as difficulty breathing and structural problems due to genetics or facial trauma. We also help patients who are unhappy with the appearance of their nose because it appears too wide, large, or misshapen. No matter your goals, Dr. Costa can discuss your specific needs and develop an individualized plan for success.
Who are the Best Candidates for a Rhinoplasty?
Adults and teenagers over 16 years of age are candidates for rhinoplasty. If you find yourself frustrated with your nose and have distinct issues you hope to improve, enhance, or correct, Dr. Costa can help. Many people who desire nose surgery are unhappy with a crooked bridge or hump. Additionally, the tip of the nose may be too large (bulbous) or boxy and require refinement. Others may have a deformity that limits their ability to breathe. In this case, Dr. Costa can perform a septoplasty or turbinoplasty to improve nose function. Patients often desire to have this procedure performed at the same time as a cosmetic rhinoplasty to alter the shape of their nose.
What are the Benefits of a Rhinoplasty?
As one of the leading rhinoplasty surgeons in Las Vegas, Dr. Costa has had the opportunity to help patients achieve beautiful symmetry with their faces and noses. Below, are a few of the wonderful benefits of the surgery:
Rhinoplasty can provide more self-confidence in the way you look and feel you're perceived
If for functional reasons, the surgery can help with breathing issues
You'll be able to remove any hump in the nose
With surgery, you can change the shape and size of your nose
Many patients want to alter flaring nostrils
What's the First Step?
The first step to getting a rhinoplasty in Las Vegas at Platinum Plastic Surgery is to book a consultation. Dr. Costa will want to meet with you in his office to perform a thorough assessment of your entire face. During this personal, one-on-one consultation, you'll be able to ask questions, get to know our team, and understand Dr. Costa's expert recommendations based on your facial anatomy and surgical desires.
If you and Dr. Costa both feel that this is the best option for you, we'll book your surgery and provide you with pre and postoperative instructions. Dr. Costa will have questions about your health, past surgeries, medications, and surgical goals.
Pro tip: Be as open and honest with Dr. Costa as possible. We're all on the same team of helping you achieve beautiful facial symmetry with a nose you'll be proud of. Good communication with Dr. Costa will help lead to optimal results.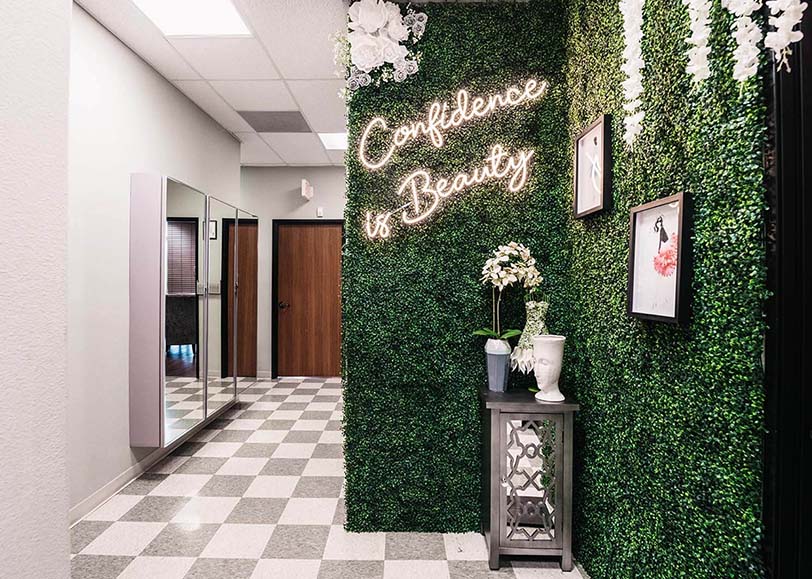 What to Expect on the Day of Rhinoplasty?
Nose surgery is performed while the patient is under general anesthesia. Rhinoplasty can be performed using different techniques depending on what is being addressed. Dr. Costa employs an open or closed (endonasal) approach. During surgery, we carefully alter the underlying structures. This may include removing excess bone or moving the bone to give the desired profile. The cartilage may be reshaped to build a better foundation for the overlying tissues.
Once the nasal features are repositioned, and the skin is draped over the newly structured framework, absorbable stitches are positioned on the inside portion of the nose, and small stitches are placed at the hidden incision site. The new structure is supported with soft splints on the inside and outside of the nose to protect the shape as it heals.
The Anatomy
of the Nose
Our nose plays an important role in how we experience the world and how others see us. Dr. Costa has a thorough understanding of the anatomy of the nose and always takes into consideration the important surrounding structures (such as the bones and cartilage) while performing rhinoplasty surgery. We always seek to preserve the natural function of your nose while improving your external appearance.
Below are the structures we address during surgery:
The skin of the upper portion of the nose is thinner and more mobile, while the lower portion has thicker and less flexible skin.
There are two thin bones that sit at the top of the nose, which can be different sizes depending on the individual. The bones project out and are partially responsible for the hump that can develop along the bridge or dorsum of the nose.
The nose is supported by five distinct cartilage structures that give the nose shape. These are called the upper lateral cartilages, lower lateral cartilages, and nasal septum. The upper lateral cartilages make up the mid-vault portion of the nose and dorsum. If they are too high, they can contribute to a dorsal hump on the nose. If they are too low, they can create a depression in the middle of the nose. The lower lateral cartilage helps define the nasal tip. The nasal septum is a straight piece of cartilage that splits down the center of the nose between the nostrils. In some cases, the septum may be warped or deviated, making it difficult to breathe. Often a part of the septum may be harvested to be used for grafts to support the structure of the nose.
Why Choose Dr. Costa?
Dr. Christopher Costa is a rhinoplasty specialist and has won numerous awards for his contributions to the surgery. Including but not limited to being awarded Best of Las Vegas multiple times. By selecting Dr. Costa for your Las Vegas rhinoplasty you're choosing a board-certified plastic surgeon who prides himself on his bedside manner and continued education.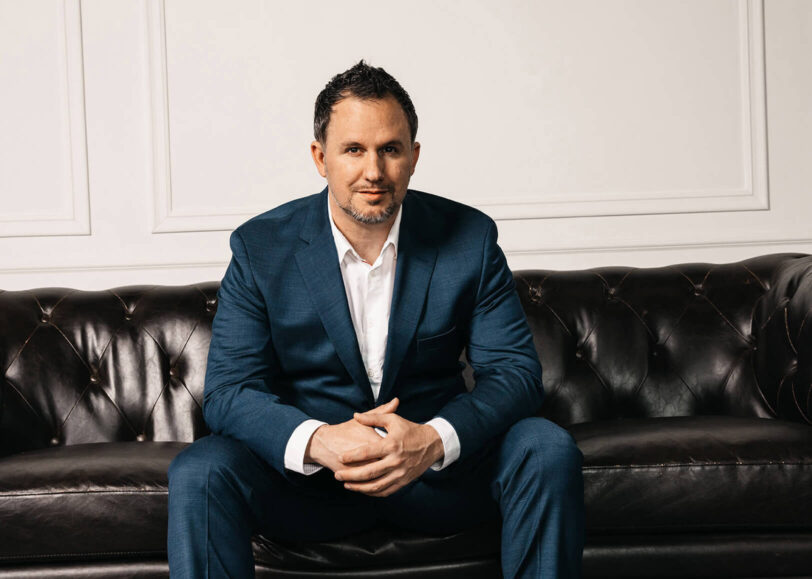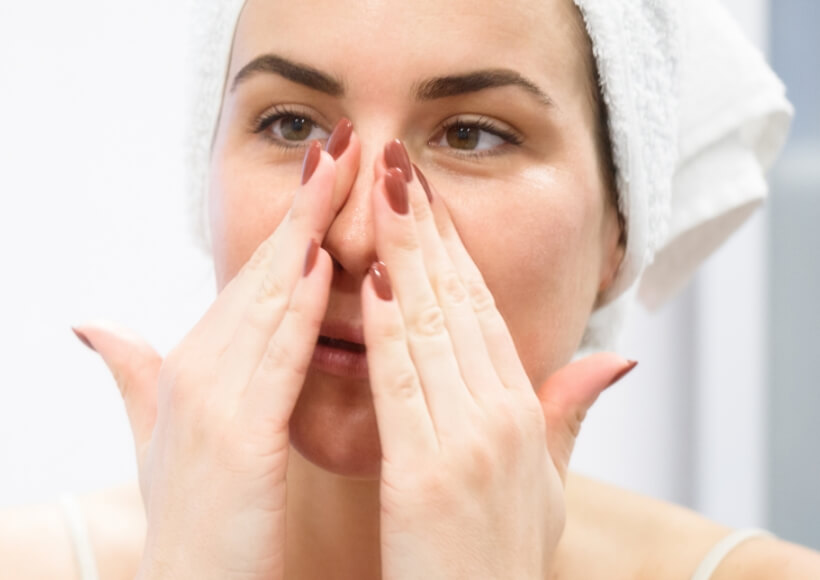 Rhinoplasty Recovery
Patients can rest comfortably in a recovery area before our medical staff releases them home. The nose and surrounding areas will be swollen, bruised, and sore for several days. In almost all patients, there is some discoloration beneath the eyes. Cold compresses and inflammatory medications can alleviate these side effects. Your post-op check-up with Dr. Costa will be scheduled within 72 hours after surgery to assess your healing progress. It takes around 2 – 4 weeks to appear normal after nose surgery. Within this timeframe, all strenuous activities should be avoided.
Everything You Should Know After A Rhinoplasty Procedure
How Much Does a Rhinoplasty Cost in Las Vegas?
The cost of a rhinoplasty in Las Vegas will vary on multiple factors. The best way to get the most accurate cost will be to schedule a consultation. During your appointment, Dr. Costa will be able to answer all questions and provide you with a full breakdown of the costs associated with surgery.
Schedule Your Consultation
If you're dissatisfied with the size and shape of your nose or if you suffer from breathing problems, nose surgery may help. Rhinoplasty is a popular and effective procedure with very high success rates. Plastic surgeon Dr. Costa aims to enhance your nose — so your entire face appears more attractive and proportionate. Even minor adjustments can lead to an impressive improvement in terms of function and appearance. Contact Platinum Plastic Surgery in Las Vegas, NV, to schedule an appointment.
Asian Rhinoplasty
An Asian nose is very different from a Caucasian nose. Asian noses often lack some cartilage and, therefore, special care must be taken to ensure a successful surgery. Most of our Asian rhinoplasty patients at Platinum Plastic Surgery want to build up the bridge of the nose while narrowing the base.
Excellent rhinoplasty results require a keen aesthetic eye and a detail-oriented approach. Plastic surgeon Dr. Chris Costa has an extensive passion and interest in Asian rhinoplasty and understands what traits that make your nose unique. Dr. Costa can maintain your distinct ethnicity while also making minor adjustments to the cartilage, skin, and bone to achieve a more natural appearance. Rhinoplasty surgery can bring balance and symmetry to the overall appearance of your face. It may also help if you have issues breathing due to a deviated septum. We encourage you to call our office in the Las Vegas, NV, area to find out more about Asian nose surgery.
How is Asian Rhinoplasty Performed?
Nose surgery is personalized according to your needs and goals. Dr. Costa can perform a consultation and use 3D imaging technology to simulate potential results. Dr. Costa performs Asian rhinoplasty on an outpatient basis under general anesthesia. Our team often employs an open technique, meaning we create a small incision hidden on the undersurface of the columella to access the underlying structures of the nose.
Dr. Costa prefers to use your own cartilage to perform rhinoplasty, but other sources are available if needed. Cartilage may be harvested from your rib or ear to gain enough strength to structure the nose to the desired shape. Grafts can also be used from other sources to rebuild the nose and increase projection along the bridge and tip. In patients with a wide nasal base, a small incision hidden in the groove between the nose and the cheek (alar groove) is made to narrow the area. Dr. Costa does not use any foreign objects for implants or grafts in the nose, such as silicone or Gortex. These implants can puncture the skin or shift and deform the nose. In rare instances, they become infected and can have devastating consequences. Although popular in other countries, many of these implants will need to be revised or removed over time.
Asian Rhinoplasty Candidates
Candidates for rhinoplasty surgery have cosmetic or functional issues with their noses. The professionals at Platinum Plastic Surgery take the following into account when working with Asian patients:
Below are the structures we address during surgery:
Asian noses may have thicker skin that causes the tip to appear bulbous or boxy. Because thick skin is more prone to scarring, we take special precautions to minimize incisions as much as possible.
The nasal bones on Asian noses tend to be shorter and smaller. Dr. Costa knows how to correct breathing problems caused by this issue.
There is less cartilage on Asian noses compared to other noses. Our team can make small adjustments to the cartilage to create a defined look or make it appear more projected.
Ethnic Rhinoplasty
Some patients want to reshape their noses while preserving the unique character traits that come with their heritage. Dr. Chris Costa is a Las Vegas, NV plastic surgeon with a special interest in ethnic rhinoplasty, using his skills to carefully correct cosmetic concerns and functional issues. This is a delicate operation that requires a skilled hand to refine the underlying structures and cartilage of the nose. With a strong educational background from the top plastic surgery programs, Dr. Costa has studied and practiced the most advanced rhinoplasty techniques to make subtle or dramatic changes based on your specific goals. If you are interested in learning about ethnic rhinoplasty, we invite you to contact Platinum Plastic Surgery today to discuss your options and goals.
Candidates for Ethnic Rhinoplasty
Candidates for ethnic rhinoplasty want to improve the appearance and/or function of their noses but want to keep certain features that connect them to their heritage. Ideal candidates are at least 16 years old and have fully formed noses that are not likely to change in the future. Patients undergoing an ethnic rhinoplasty should be clear about their goals so we can craft the best surgical plan moving forward. Dr. Costa will also talk to you about realistic expectations and what to expect during and after surgery. Ethnic rhinoplasty may be a more complex and detailed procedure than a traditional rhinoplasty, but it depends on each person's unique character traits and desires. All of the following considerations will be discussed and decided on with Dr. Costa during your consultation prior to surgery. Read about the ethnic considerations for having a rhinoplasty procedure in Las Vegas, NV, below.
African American
Dr. Costa will generally address the height of the bridge and nasal tip definition during an ethnic rhinoplasty for African American patients. Many patients have concerns about the width of their nostrils and lack of projection, so Dr. Costa can work to build the dorsal (bridge) height and increase the nasal tissue framework to provide more definition while reducing the nostrils.
Latino/Hispanic
There are a wide variety of nose types and common concerns within the Latino/Hispanic community. However, Dr. Costa may work to address nasal size and width by narrowing the height of the nasal dorsum (the area from the nasal root to tip) while defining the projection and rotation of the tip.
Middle Eastern
Middle Eastern patients can sometimes have issues with too much projection and an overly defined nasal tip, as well as having a bump that appears on the bridge. Dr. Costa uses extra care when working to reduce the length and reshape the nose, along with smoothing out the bump.
Male Rhinoplasty
The nose is one of the most prominent and important features on your face in terms of structure and proportionality. For males specifically, the nose can create a masculine appearance and add definition to your profile. Dr. Chris Costa is a plastic surgeon in Las Vegas, NV who is sensitive to these needs and can perform a rhinoplasty while paying special attention to your desires and goals. Nose surgery can correct issues like bumps on the bridge of the nose, large or disproportionate nostrils, defects in the nasal tip, and other problems that may be detracting from your overall appearance and confidence. In some cases, a rhinoplasty can even improve breathing for both enhanced function and aesthetic results. If you're interested in Platinum Plastic Surgery, call to schedule a consultation and see how we can help you.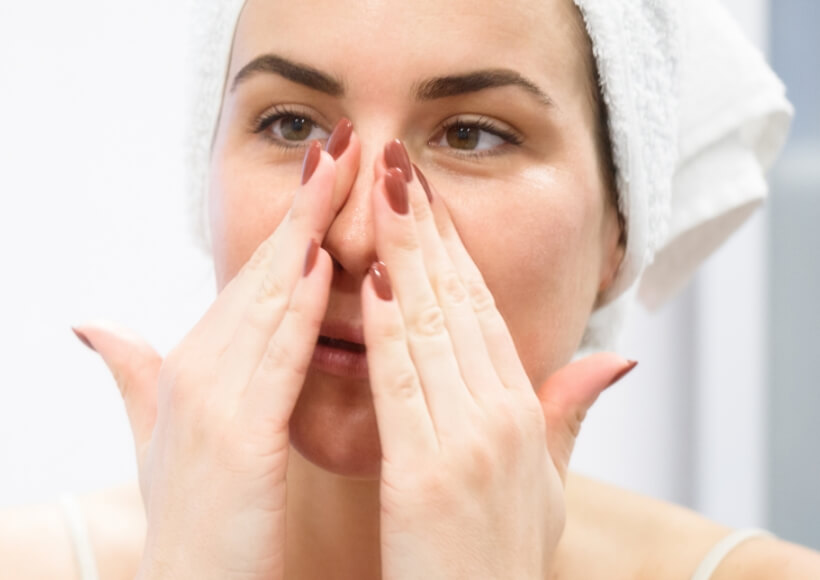 REVISION RHINOPLASTY
Rhinoplasty is one of the most popular plastic surgeries performed today, and patients are usually happy with their results. However, if you're not pleased with your appearance or you have trouble breathing after surgery, Platinum Plastic Surgery can perform a revision rhinoplasty procedure in Las Vegas, NV. Revision rhinoplasty (or secondary nose surgery) can make minor improvements to your nose shape or require a more extensive approach depending on your goals. You don't have to live with less-than-stellar rhinoplasty results or deal with breathing issues after surgery. Schedule an appointment with plastic surgeon Dr. Chris Costa for more information about revision rhinoplasty. Dr. Costa has years of experience performing both primary and revision rhinoplasty procedures and will make sure you achieve the best outcomes possible. Call to schedule a rhinoplasty assessment and learn how to get started today.
Candidates for Revision Rhinoplasty
Candidates for a revision rhinoplasty want to improve the results of previous nasal surgery. A number of factors can contribute to a less-than-satisfactory outcome, including small bumps or asymmetrical results. A revision may also be needed if you had an injury or accident that has impacted the function or appearance of your nose after the initial procedure. Depending on the results of the original rhinoplasty and your goals for surgery, a revision procedure can be significantly more challenging and complicated. This is why it's important to choose a plastic surgeon like Dr. Costa, who has years of training and a special interest in revision rhinoplasty. We can ensure better surgical results.
How is Revision Rhinoplasty Performed?
Dr. Costa will develop a treatment plan based on your concerns and goals prior to performing revision rhinoplasty. Surgery is usually completed as an outpatient procedure under general anesthesia. The duration of your procedure depends on the extent of the repair and the techniques used. For example, an open technique (the most common approach for revision rhinoplasty) requires separating the skin, cartilage, and bone, allowing for maximum visibility. Revision rhinoplasty may also require a cartilage or bone graft to help reconstruct and strengthen the framework of the nose.
Rhinoplasty FAQs
Is rhinoplasty surgery safe?
The rhinoplasty techniques used by Dr. Costa are extremely safe, but no surgical procedure is without risk. This is why patients should be in good health and have realistic expectations before undergoing surgery. Our team can review the risks and benefits during a consultation and what you can expect in terms of results and recovery.
Do I need to take time off work after rhinoplasty?
You can expect to return to desk jobs or other non-strenuous activities soon after your procedure, but it's best to take time off from work. Patients in Las Vegas should avoid heavy physical labor for at least several weeks. Bruising and swelling will subside in time, but you may experience minor discomfort in the meantime.
What about nonsurgical rhinoplasties?
Patients with mild to moderate cosmetic concerns may turn to nonsurgical rhinoplasties, which use dermal fillers to improve the appearance of the nose. However, these treatments are temporary and do nothing to correct the underlying structure of the nose. They are also not recommended for patients with breathing problems or a deviated septum. Platinum Plastic Surgery can make recommendations about the best way to deal with your concerns.
WHO IS THE IDEAL CANDIDATE FOR A NOSE JOB?
The most common reasons people seek out rhinoplasty surgery are for a hump on the bridge of the nose (dorsal hump), or because they do not like the tip of their nose. Almost anyone is a candidate for rhinoplasty surgery if you can identify what it is about your nose that bothers you. Rhinoplasty is a great operation that can help put your nose in proportion with the rest of your facial features to enhance your overall appearance. The goal of rhinoplasty surgery is to create a nose that is in harmony with the rest of your facial features. You may desire the look of a specific celebrity however Dr. Costa may recommend a slightly different result based on your specific facial features. What makes our consultations different is we perform 3-D imaging simulations with you on your face so that you and Dr. Costa can build you the perfect knows that both are in harmony with your face and accentuates your other facial features.
WHEN CAN I WORK OUT AFTER RHINOPLASTY?
Dr. Costa recommends waiting three weeks after surgery before doing any activity that will raise your blood pressure this includes working out in the gym and sexual activity.
Does rhinoplasty surgery hurt?
Most patients who undergo rhinoplasty are off prescription pain medication within 48 hours after surgery. While some discomfort can be expected with any surgery Most patients do not complain of pain during their recovery.
WHAT CAN I DO TO PREPARE FOR RHINOPLASTY SURGERY?
Dr. Costa recommends that all patients stop any herbal supplements unless specifically prescribed by Dr. Costa. Most herbal supplements increase the risk of bleeding during surgery. We also require that all patients who use any tobacco products quit for four weeks prior to surgery and for four weeks after. It is important during your consultation that you are as honest as possible with Dr. Costa about the use of any substances that may inhibit your results. We also recommend eating a high-protein diet in the weeks leading up to any surgery as this will help with wound healing.
HOW MUCH DOES RHINOPLASTY SURGERY TYPICALLY COST?
Rhinoplasty surgery price will vary on a number of different factors depending on the complexity of the procedure that needs to be performed to get the desired results. Rhinoplasty pricing starts at approximately $8000 and can go as high as $25,000. Things that affect the price would be if you need special cartilage grafts because you have a history of previous trauma to the nose or if you need cartilage harvested from other places on your body in order to reconstruct the nose and give the desired appearance Additionally rhinoplasty Price can vary based on the reputation of the surgeon. More well-known surgeons may charge a premium because they have a long track record of delivering consistently high-quality results.